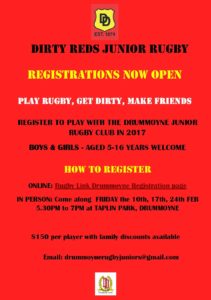 DIRTY REDS JUNIOR RUGBY 2017 REGISTRATION IS NOW OPEN
PLAY RUGBY, GET DIRTY, MAKE FRIENDS
Drummoyne Junior Rugby welcomes BOYS & GIRLS – AGED 5-16 YEARS
New and Returning players can register Online or In Person
ONLINE: Click on the Rugby Link Drummoyne Registration page. To ease the online registration process we've also provided a step by step guide in the pdf file link below. Open or download the file and follow the steps.
IN PERSON: Come along To Taplin Park, Drummoyne on FRIDAY the 10th, 17th and 24th February between 5.30PM and 7PM
Cost: $150 per player with family discounts available
Any queries? Email us at drummoynerugbyjuniors@gmail.com
Registration Instructions for Drummoyne Districts Junior Rugby 2017.